Northern MI Farm Market Pies – Farmer Whites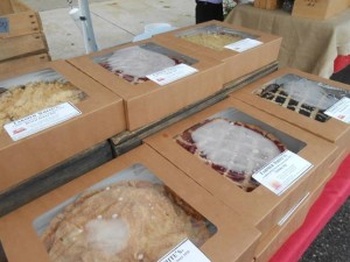 What makes a chilly evening meal even better? Freshly baked pies from our northern MI farm market! Farmer White's has long been a favorite destination for pie lovers in and around Traverse City. You can visit our bright and inviting northern MI farm market located just two miles south of downtown Elk Rapids or drop by our stand at the Harbor Springs Farmers Market.
Every pie is a labor of love. We use the freshest ingredients for our family recipes so you can enjoy homemade taste with minimal effort. You need to be fast, however, because we quickly sell out of the most popular flavors!
If you visit the page for our northern MI farm market on Facebook, you'll find photos of freshly baked pies. Tim recently made these scrumptious cherry piestopped with latticework pastry – he learned from the best (his mom!).
Often, we incorporate the bounty of the season in our carefully-crafted pie fillings, like our truly inspired Orchard Fruit Pie. This blend of sweet and tasty peaches, nectarines, apricots, and cherries is heavenly.
Our most stalwart customers usually remark on the exceptional quality of the pies we make and sell at Farmer White's. It's true: our pie crust is as tasty as it is pretty. We roll the pastry for every pie and artfully shape the crust just as it was done in decades past.
Check out the pie crust perfection herein this photo of our peach, peach blackberry, and peach blueberry pies just before they're popped in the oven to bake to a golden brown.
At Farmer White's, we use the finest fresh ingredients and our time-tested (and customer approved!) recipe for melt-in-your-mouth crust. Look at the rich and generous quantity of filling and the gorgeous browned crust of our popular peach blackberry pie here.
If you're looking for an exquisite dessert, tasty snack, or luscious treat, come visit our northern MI farm market to stock up on freshly-made pies. Farmer White'sare the perfect hostess gift or dessert for fall suppers and potlucks. We just have to warn you that once you try our tasty pies, one won't be enough!
Share on Facebook