Farm Market BBQ Shopping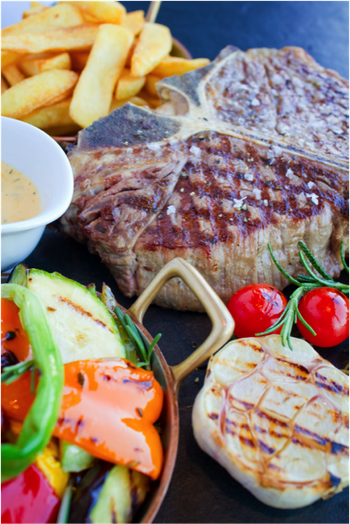 Planning a BBQ this weekend? Time for a quick trip to Farmer White's farm market, Elk Rapids, MI to stock up on fresh and yummy food! Located in Williamsburg, just two miles south of downtown Elk Rapids, Farmer White's has supplied delicious off the farm produce and artisan-crafted fine foods to Northern Michigan for decades.
You can expect friendly service and competitive prices for the freshest ingredients at our family-owned and operated Williamsburg farm market two miles south of downtown Elk Rapids, MI.
Naturally you'll find crisp green lettuce to tear and nice, juicy tomatoes to slice. There are onions to fry up for garnishing freshly grilled burgers.
No BBQ is complete without tossed green salad, grated cabbage, carrot coleslaw, baked potatoes, or a hearty potato salad. Bring your shopping list to Farmer White's and we'll personally help you find all the fruits, veggies, desserts, sides and sauces you need.
High quality and good prices aren't limited to our fresh produce! At our Williamsburg farm market near Elk Rapids, MI, area residents will find all sorts of exceptional Michigan-made canned goods, preserves, and more.
Browse our aisles and find tangy sauces and spices to liven up the flavors at your BBQ. Do you know how saucy we are? We carry delicious artisanal BBQ Sauce, Michigan's own Cherry BBQ Sauce, Jamaican Jerk Hot Sauce, Merlot Steak Sauce, Peachy Peace Hot Sauce, and Raspberry Rib Slather to name just a few.
Top your salads with our fine dressings, including inspired flavors such as Sweet Apple Honey Mustard dressing, Cherry Poppy Seed Dressing, Chipotle Ranch Dressing/Dip, and tartly pleasing Red Raspberry Vinaigrette Dressing.
That's not all! Farmer White's carries a variety of pickles, pickled vegetables, and zesty salsas that will add spark to your BBQ table. From the old stand-by Bread & Butter Pickles to German Sauerkraut and Corn Relish to Apple Riesling Salsa, shopping for BBQ foods is fun and inviting when you come to our friendly farm market near Elk Rapids, MI.
And don't forget dessert! Farmer White's is renowned for delicious homemade pies and baked goods. You can buy homemade taste to go or if you want to bake something yourself, check out our wonderful selection of quality baking mixes. What dad can resist a freshly- baked pie or out-of-the-oven Heirloom Applesauce Cake or Root Beer Cookies?
Ready to wow your guests this weekend? Come and see us at our Williamsburg farm market just two miles south of downtown Elk Rapids, MI. Farmer White's is open Mon – Sat 9am – 6pm and Sunday 10am – 5pm.
Share on Facebook