Farm Market Northern MI – Strawberry Craze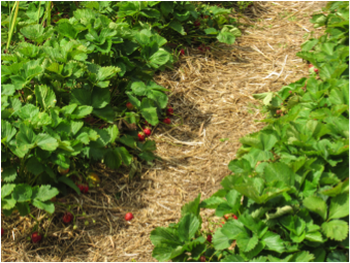 Farmer White's, the farm market northern MI has trusted since 1958, has good news: berry season is underway! Do you love berries as much as we do? We have to agree with American singer-songwriter Jordin Sparks, who says, "I love berries. Strawberries, blueberries, raspberries, blackberries – anything with an 'errie' in it!"
Our farm market in northern MI is proud to sell locally -sourced strawberries for the best quality and flavor. They don't have to travel far to reach your table, and you can enjoy the confidence that they are freshly-picked for optimal taste.
Doesn't it feel good to know that you're supporting local farmers and minimizing your carbon footprint by buying local- produced fruit? We think so, too!
What's your favorite way to eat Michigan's best strawberries? Next to fresh from the field, the staff at our farm market in northern MI loves strawberries in a few ways:
Sliced in a bowl with a generous serving of fresh cream
Whipped into smoothies with frozen chunks of bananas and other fruit for a power-packed breakfast or healthy pick-me-up
Dipped in freshly-melted chocolate as a special treat or easy dessert
Sliced and served with fluffy pancakes and some delicious artisan-made syrup from our store
Baked into strawberry-rhubarb pies, crisps, and cobblers
Garnishing the classic strawberry dessert: freshly baked shortcake and whipped cream
Blended into fruity summer drinks like strawberry daiquiris or margaritas – or creamy strawberry milkshakes
Homemade strawberry jam (or if you're pressed for time or not inspired to make it yourself, choose from the well-stocked jam section at Farmer White's!)
If you're looking for even more inspiration, check out this recently updated compilation of delectable strawberry recipes in this Huffington Post article.
Did you know that you can freeze fresh Michigan strawberries to enjoy all year long? Stock up when you visit our farm market in Northern MI, located in Williamsburg just two miles south of downtown Elk Rapids, and you can easily prepare them for your deep freeze. Here is a handy guide we found online that covers four simple ways to freeze local strawberries.
What's better news than fresh, local berries? Farmer White's farm market in Northern MI has a great selection of fresh food and locally-made artisan preserves, sauces, salsas, and more. We are currently open Saturdays 11am-4pm and will soon be open daily for the summer!
Share on Facebook